Posters
Exhibition Posters from Past Exhibitions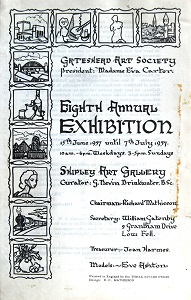 The original 1948 inaugural poster and a later 1958 poster
The 1998 and 99 posters with art by Charles H Rogers
2000 poster -art by C.H. Rogers and the 2001 poster with art by Jenny Dyson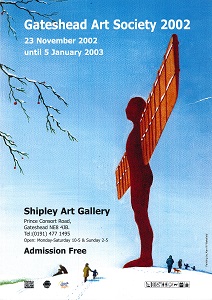 The posters of 2002 & 2007 art by Alan W Wakefield & Jenny Dyson
The 2008 poster -art by Mary Davison. The poster on the right, above, was for the rescheduled 2009 Exhibition (Jan-Feb 2010) art by John Fulthorpe.
Art for both November 2010 and 2011 posters by Allan White
The 2012 poster -art by Allan White & the 2014 Summer Exhibition poster with art by Joe McGregor.
2014 Winter Exhibition poster with art by Allan White and the Summer Exhibition 2015 poster had art by Jenny Dyson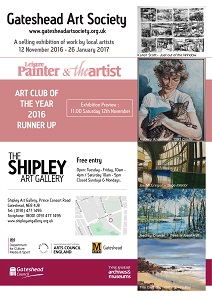 The art for the 2015 Winter poster, above left, was by John Fulthorpe. The 2016 poster celebrated our runner up place in the National Art Club of the Year Competition and showed art from the competition entry. From the top they were; Karen Stott, Aubrey Anderson, Joe McGregor, Audrey Drynan and Tim Griffiths.
The Summer Exhibition poster of 2017 had art by Jenny Dyson as had the Winter 2017 poster celebrating The Shipley Gallery centenary.
The Anniversary poster of November 2018 & the 2019 Spring Exhibition Poster with art by Aubrey Anderson (for the latter) and the last pre-Covid poster for the Winter 2019 Exhibition with art by Allan White (below left.)
Due to the Covid emergency the 2020 Exhibition was on-line and no poster was produced.
Two posters were produced for the 2021 Winter Exhibition, design by Clare Lovett, with art by Harry Bell, left and by Allan White, right.
2022 Annual Exhibition Poster; art by Joe McGregor, and the 75th Anniversary poster of 2023, art Allan White and both designed by Clare