Exhibition Notes
We have two exhibitions in October through to December featuring up to 140 paintings between them all works by artists of the North-East.
The first of the exhibitions is now on at St Mary's Heritage Centre (near The Sage), Gateshead from 30th October 2018 until the 8th December. It overlaps the 70th Anniversary Annual Exhibition which is now on at The Shipley Art Gallery. The Annual Exhibition was launched on Saturday 17th November 2018 by the Deputy Mayor of Gateshead and will continue until December 22nd 2018.
A report on last year's (2017) Annual Exhibition is in 'Archive -Old Reports' -see menu left..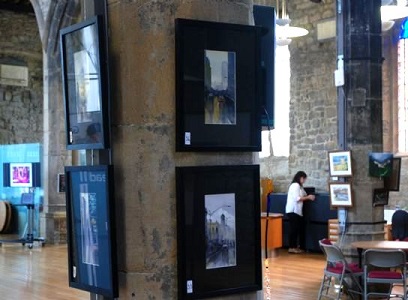 Part of the Exhibition at St Mary's Heritage Centre by The Sage Gateshead, July/August 2017