Exhibition Notes
2021 Exhibitions
The 2021 Annual Exhibition Has now concluded. The art images can still be viewed see the Exhibition tab on the home page.
2020 Exhibitions.-strange times!
Annual Exhibition 2020
All ambitions to exhibit last year (2020) were subject to Government guidelines and and it's further announcements meaning the planned five week Exhibition was initially reduced to two days in December and even this too had to be cancelled as the Region went into tiers 3,4 & 5 Covid restrictions and The Shipley Art Gallery closed again.
In response to these difficulties we prepared an on-line
virtual exhibition
for this web site which launched on 21st November 2020. This has now concluded.
Although it was an on-line Exhibition it was still, as usual, a selling exhibition and uniquely for us ten paintings were sold through the web site -this equates to nearly 12% of the art displayed in the Exhibition.
Our planned Summer Exhibition at St Mary's, Gateshead Heritage Centre in July/August 2020 was cancelled due to the Covid 19 emergency measures.
2019 Critique
Participating artists with Sue Deighton at the critique of the Exhibition in November and (below) Sue in full voice giving pointers and views painting by painting -all 116 of them.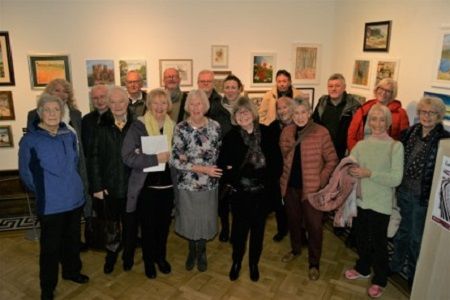 Critique of the 70th Anniversary Exhibition by Sue Deighton
Shipley Art Gallery November 2018
Some of the exhibiting artists photographed with artist Sue Deighton (standing -red top) at The Shipley Art Gallery, Gateshead with a display showing aspects of both the history of The Gateshead Art Society and The Shipley Art Gallery.
Sue with Allan
all photos J Fullthorpe