Exhibition Notes
2019 Exhibitions.
Our Annual exhibition at The Shipley Art Gallery -from 9th November until 22st December 2019 has now concluded.
Our next exhibition will be our Summer Exhibition to be held at St Mary's Heritage Centre, Gateshead (by The Sage) dates to be announced.
2019 Critique
Participating artists with Sue Deighton at the critique of the Exhibition in November and (below) Sue in full voice giving pointers and views painting by painting -all 116 of them.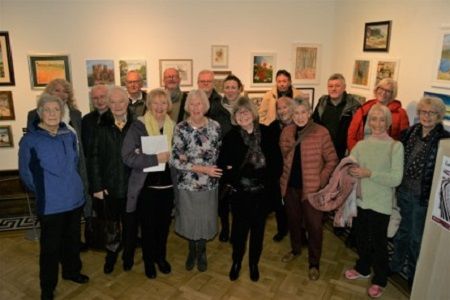 Critique of the 70th Anniversary Exhibition by Sue Deighton
Shipley Art Gallery November 2018
Some of the exhibiting artists photographed with artist Sue Deighton (standing -red top) at The Shipley Art Gallery, Gateshead with a display showing aspects of both the history of The Gateshead Art Society and The Shipley Art Gallery.
Sue with Allan
all photos J Fullthorpe