Exhibition Notes
2020 Exhibitions.

Our planned Summer Exhibition at St Mary's, Gateshead Heritage Centre (by The Sage) from mid-July to mid-August 2020 -was postponed due to the Covid 19 emergency measures. All ambitions to exhibit this year are subject to Government guidelines and and it's further announcements. However we are working to see if an on-line virtual exhibition can be put together with the possibility of limited viewing of the art at the Shipley come November or December. Watch this space!
2019 Critique
Participating artists with Sue Deighton at the critique of the Exhibition in November and (below) Sue in full voice giving pointers and views painting by painting -all 116 of them.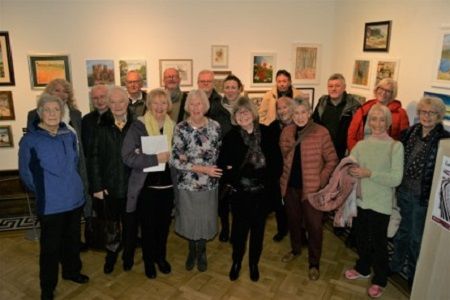 Critique of the 70th Anniversary Exhibition by Sue Deighton
Shipley Art Gallery November 2018
Some of the exhibiting artists photographed with artist Sue Deighton (standing -red top) at The Shipley Art Gallery, Gateshead with a display showing aspects of both the history of The Gateshead Art Society and The Shipley Art Gallery.
Sue with Allan
all photos J Fullthorpe