Members Information
NEWS
Next Meeting; Shipley is Open for The Gateshead Art Society Friday afternoon sessions.
Our next session at the Shipley will be on Friday September 18th. As before the tables will be set out in the main gallery 2m apart and with a one way system around them. Due to these and other necessary Covid 19 precautions the session time will be 1 o'clock to 3 o'clock in the afternoon.. Numbers will be limited to 20 persons maximum.

To help keep members keep in contact with each other and with their art activities a 'Programme Works' gallery has been set up on the web site and Members might like to contribute art works completed in response to the subjects suggested in our programme during this period of confinement for display there. Also there is now a 'Latest Works' Gallery for other recent art contributions. Just send them along as usual and they will be added to the Gallery.
Keep safe, keep busy!
The Annual Exhibition
which began on 9th Nov has now concluded.116 paintings made the list from which three Highly Commended awards were made and the visiting public choose 'The People's Award' painting. -see
Commended Works
.
Portraiture demo by Ted Taylor
on the 15th Feb (
see Events
)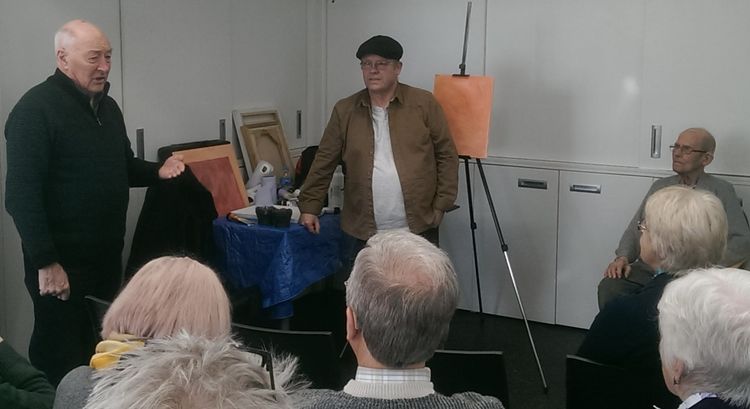 Artist Ted Taylor being introduced to the members by John Fulthorpe prior to his portraiture demonstration at the Shipley Workshop .
photo A White
The "Alla Prima" afternoon of a couple of weeks ago produced 9 entries. The vote was close with Margaret's seascape being chosen by the members as the winner.
FOCUS GROUP
Mapping Contemporary Art in Heritage Environment: Creation, Consumption and Exchange.
GAS members have asked to form a Focus Group that will feed into the above Heritage Sites project in assisting with its aims;
-To map the trajectory of contemporary visual art in heritage sites in the UK,
-To understand how artists engage with the heritage context in the creation of contemporary art for heritage properties,
-To analyse how contemporary artworks commissioned for these contexts are received and consumed by heritage property visitors.
The first meeting took place at the Shipley Gallery on 27th April 2018. The Society's involvement will continue with visits to Gibside, Cherryburn and Holy Trinity Church, Sunderland as part of the study.
The study is organised by the University of Newcastle, with the University of Leeds and national and regional partners from the arts and heritage sectors. It is funded by the Arts and Humanities Research Council. It runs from Jan 2017 to Dec 2019 but GAS's involvement has now ended although we have been invited to attend a conference on the subject sometime next year when the findings will be reported.