Events
Scroll down for items on; Annual Exhibition, Berwick Trip, Charcoal Demo, Focus Group, Alla Prima afternoon and Artist Demonstrations
The 70th Anniversary Annual Exhibition
The Exhibition was opened by the Deputy Mayor of Gateshead Cllr Rachel Mullen. The proceedings were led by chairman of the Society Allan White in front of a large audience of invited visitors. Julie Milne the head curator of art galleries at Tyne and Wear congratulated the Society on its continued contribution to the Gateshead art scene and the quality of it's work.
Rachel Mullen presented
commendations
to three artist members; Brian Wilson for "Milan Cathedral", Joe McGregor for "Sage Interior 2" and Doug Stephenson for his work "Smiling Child".
Congratulations to all three.
Allan White, with Cllr Rachel Mullen, Deputy Mayor of Gateshead
A full page spread in The Journal, Newcastle on Tuesday 20th November was given over to covering our Anniversary Exhibition. The article quotes Allan's Society and Shipley history researches and features the work of (clockwise from top L above) Joe McGregor, Harry Bell, Mike Jackson, Aubrey Anderson and Doug Stephenson.
Allan White, with Exhibition curator Julie Milne and Cllr Rachel Mullen, Deputy Mayor of Gateshead pictured in front of exhibits in Gallery 'C'
Also at the launch of the Exhibition (from top L) Pat Thompson & Myrna Bell, Joe McGregor & Audrey Drynan , Dougie & Jane Johnston and Jimmy Swaddle of The Shipley Gallery with artist Harry Matthews.
All photos J Fulthorpe
Berwick-upon-Tweed
Our annual trip this year was to Berwick-upon Tweed. A group from the membership visited the famous walled town on a showery Friday to walk its historic walls, visit its art galleries and take the many sketching opportunities offered by the architecture, the marine environment and the many riverside and town vistas. Shelter from the downpours was availed of in tea shops, cafes and under canopies or in doorways. Despite the interference of the weather, the conditions were dry enough to allow artistic efforts to get onto paper. (A few are included below). Thanks go to Allan for organising the event and taking on the driving duties.
Sketches by Willie Drea and Allan White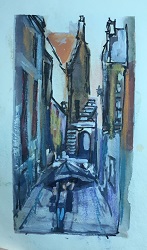 Sketches by Harry Bell (left) and Tim Griffiths
Demonstration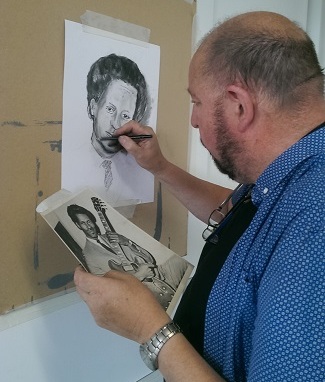 Brian Wilson's demonstration of charcoal portraiture.
photo A. White
Gateshead Focus Group Visit to Cherryburn
This second Focus Group visit (see also Gibside below) was to the birthplace of Thomas Bewick at Cherryburn, Mickley. The Art work was by Mark Fairnington and was installed in a small cottage in the farmyard of Cherryburn. After the tour of the house and site and seeing the artist's work (a series of small paintings), Niki Black of Newcastle University led a discussion on the relevance/suitability of the art for its location.
The 3rd and final visit by the Focus Group was to The Church of the Holy Trinity in East Sunderland. This work was a collaborative sound installation conceived and directed by artist Matt Stokes. It was a 46 minute piece for bells, voice and musical instruments and entitled "Gogmagog".
The group recommended all three artistic interventions visited which have now ended. For more on this see
Members' Information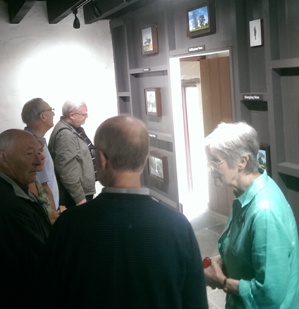 Art Installations in the cottage at Cherryburn
photos W. Drea & A. White
Gateshead Focus Group Members visit to Gibside
The visit was part of the research project being undertaken by Newcastle University and the National Trust into the siting of contemporary works of art in heritage sites.
The Members of Gateshead Art Society have volunteered to assist the research team.
The art works were by Andrew Burton (pictured below) and by Fiona Curran (not pictured)
Members viewing the art installations at Gibside
-photos J Fulthorpe
There were sketching opportunities and a couple are included here by Allan, (Gibside Cottage) and Willie, (Cherryburn Farmyard).
Alla Prima Afternoon
On an afternoon in June members gathered to paint the subject of "Flowers" in a sitting. The paintings were then judged or voted on by those present. Audrey's entry was chosen the best of the bunch (see below.)
Blossoms, Acrylic on Canvas Board by Audrey Drynan
Some other alla prima entries
By Michael Jackson, Tim Griffiths, Harry Bell and Allan White
Demonstration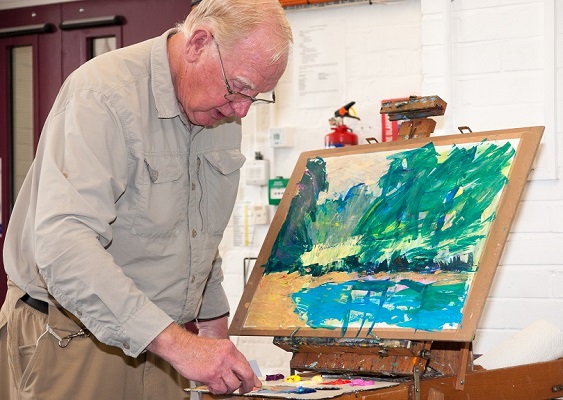 Tony Montague
Demonstrating acrylics and palette knife painting in August 2017
photo J. Fulthorpe
Clare Money Demonstration
On the 25th September 2015 Clare Money was again at the Shipley Art Gallery. This time Clare was asked to demonstrate painting a portrait using pastels. As can be seen left, Clare painted an excellent portrait of Society Chairman, Allan White. While Clare was painting she gave a running commentary describing the methods she uses when painting with pastels.
photo J McGregor