Events
Scroll down for items on; Berwick Trip, Charcoal Demo, Focus Group, 2017 Exhibition, Alla Prima afternoon and Artist Demonstration of Acrylics
Berwick-upon-Tweed
Our annual trip this year was to Berwick-upon Tweed. A group from the membership visited the famous walled town on a showery Friday to walk its historic walls, visit its art galleries and take the many sketching opportunities offered by the architecture, the marine environment and the many riverside and town vistas. Shelter from the downpours was availed of in tea shops, cafes and under canopies or in doorways. Despite the interference of the weather, the conditions were dry enough to allow artistic efforts to get onto paper. (A few are included below). Thanks go to Allan for organising the event and taking on the driving duties.
Sketches by Willie Drea and Allan White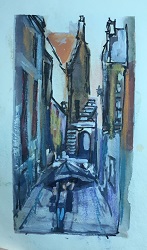 Sketches by Harry Bell (left) and Tim Griffiths
Demonstration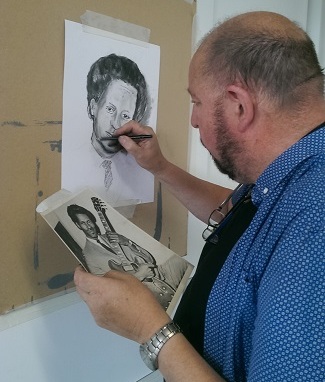 Brian Wilson's demonstration of charcoal portraiture.
photo A. White
Gateshead Focus Group Visit to Cherryburn
This second Focus Group visit (see also Gibside below) was to the birthplace of Thomas Bewick at Cherryburn, Mickley. The Art work was by Mark Fairnington and was installed in a small cottage in the farmyard of Cherryburn. After the tour of the house and site and seeing the artist's work (a series of small paintings), Niki Black of Newcastle University led a discussion on the relevance/suitability of the art for its location.
The 3rd and final visit by the Focus Group was to The Church of the Holy Trinity in East Sunderland. This work was a collaborative sound installation conceived and directed by artist Matt Stokes. It was a 46 minute piece for bells, voice and musical instruments and entitled "Gogmagog".
The group recommended all three artistic interventions visited which have now ended. For more on this see
Members' Information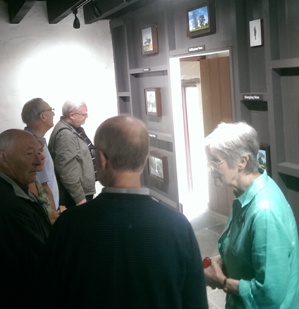 Art Installations in the cottage at Cherryburn
photos W. Drea & A. White
Gateshead Focus Group Members visit to Gibside
The visit was part of the research project being undertaken by Newcastle University and the National Trust into the siting of contemporary works of art in heritage sites.
The Members of Gateshead Art Society have volunteered to assist the research team.
The art works were by Andrew Burton (pictured below) and by Fiona Curran (not pictured)
Members viewing the art installations at Gibside
-photos J Fulthorpe
There were sketching opportunities and a couple are included hereby Allan, (Gibside Cottage) and Willie, (Cherryburn Farmyard).
Alla Prima Afternoon
On an afternoon in June members gathered to paint the subject of "Flowers" in a sitting. The paintings were then judged or voted on by those present. Audrey's entry was chosen the best of the bunch (see below.)
Blossoms, Acrylic on Canvas Board by Audrey Drynan
Some other alla prima entries
By Michael Jackson, Tim Griffiths, Harry Bell and Allan White
Annual Exhibition 2017
John Fulthorpe, standing in for Chairman Allan White, welcomed Deputy Mayor Councillor Jill Green to open our 2017 Annual Exhibition of members work on Saturday 18th November. Helen White and Ruth Sheldon from Tyne and Wear Museums and Galleries were also in attendance.
Paintings by Pat Thompson (Autumn Glory"), Jenny Dyson ("Shipley Gallery") and Allan White ("Fenwick's Window") were Highly Commended and Councillor Green presented the award to Jenny. Well done to all three.
The members paintings were displayed, not on the gallery walls as usual but on easels arrayed at one end of the main gallery. Twenty one paintings were chosen for this area the rest were arranged in the side gallery on tables and seats, far from ideal.
The work displayed on the easels will be removed after one week and replaced by other paintings. In this way all members work will be displayed in the main gallery at some time.
Several sales were made on the day which is very encouraging however attendance was lower than in previous years.
JF.
Deputy Mayor Cllr Jill Green with Society member John Fulthorpe
photo N Dyson
Demonstration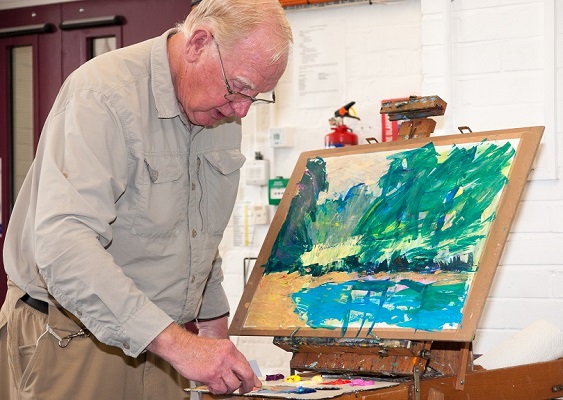 Tony Montague
Demonstrating acrylics and palette knife painting in August 2017
photo J. Fulthorpe
Presentation
Society Chairman, Allan White, presenting a Life Membership certificate to Joe McGregor in recognition of his work for the Society as secretary, member and artist over many years.
Joe and his partner Irene recently resigned from the Society having moved away from the area. The certificate was presented at the Christmas Party on December 23rd 2016
Photo J Fulthorpe
Clare Money Demonstration
On the 25th September 2015 Clare Money was again at the Shipley Art Gallery. This time Clare was asked to demonstrate painting a portrait using pastels. As can be seen left, Clare painted an excellent portrait of Society Chairman, Allan White. While Clare was painting she gave a running commentary describing the methods she uses when painting with pastels.
photo J McGregor